AMLA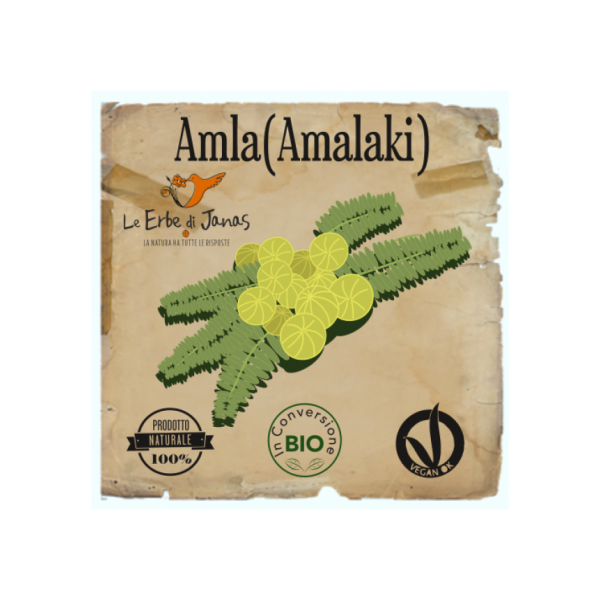 Ingredients: Emblica officinalis fruit
Harvest: 2017
Packaging: double vacuum pack
Certifications: Vegan ok - Organic in conversion
EXTERNAL USE
The Amla fruit is commonly known as Indian Gooseberry or Amalaki.
It is one of the most used remedies in Ayurvedic Medicine. It is very rich in vitamin C and is a powerful natural antioxidant.
Used as a Beauty treatment for skin and hair.
Hair: gives strength to the roots, shines the hair, prevents premature graying, prevents hair loss and stimulates growth. According to Indian tradition, amla darkens hair with systemic use. It is also used for scalp infections.
Skin: It is used as a mask to nourish and soften the skin, illuminates the complexion and offers a deep cleansing, excellent for the treatment of imperfections such as remedies and blackheads.
N.B. Any redness of the skin is normal and due to the presence of Vitamin C, start with small amounts and gradually increase.
HOW TO USE
Mix the powder with boiling water until you get the consistency of a yoghurt. Cover the container and allow to stand for 20 minutes.
Apply the paste to dry or slightly damp skin. Massage with light circular movements. Apply what remains even on the lengths. Leave on for 20 to 50 minutes. Rinse thoroughly and make a light and diluted Shampoo.
As a face mask, it is advisable to mix it with Argille and other Herbs. the shutter speed is 10/15 minutes.
Herbs can be used in synergy with each other for a complete and personalized treatment.