FLORASE DERMA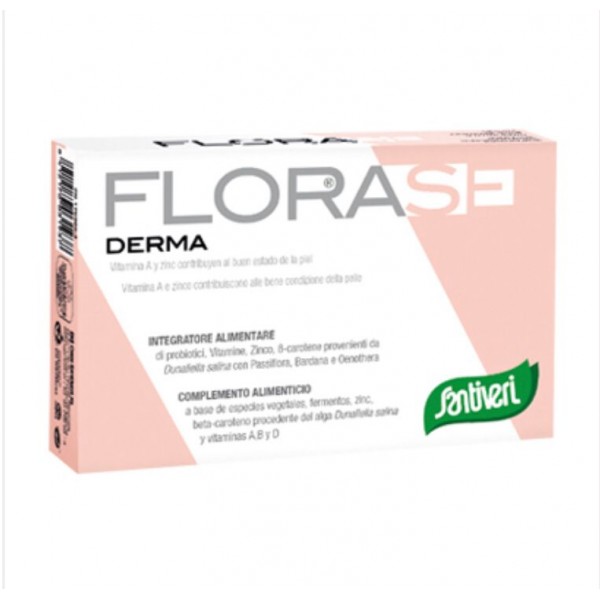 Florase Derma: probiotics to cope with the enemies of a clear and radiant skin
FLORASE DERMA Santiveri is the probiotic supplement that promotes the well-being and radiance of the skin. Based on passionflower and burdock probiotics.
Burdock promotes skin purification¹.
The probiotics Lactobacillus rhamnosus and Bifidobacterium animalis are part of the digestive flora. A balanced intestinal flora gives well-being to the whole body, in a new vigor that is reflected on the skin.
Vitamin A and zinc keep skin young². In addition, zinc contributes to protection by counteracting free radicals. ³
Vitamin B6 and Vitamin D contribute to the normal functioning of your defenses. 4
WHEN AND HOW
FLORASE DERMA helps you when your skin reacts to seasonal variations (especially in spring) or to emotional changes. It can be taken for two to three weeks. In mature skin or with acne, taking it on a regular basis provides a reinforcement of nutrients against the aggressive agents of the skin.
Just take 2 capsules with a sip of water before breakfast.
INGREDIENTS
Passion flower powder (Passiflora incarnata L.) herba c. floribus 42.1%; vegetable gelatin (for the capsule); maltodextrin, dry extract of burdock (Arctium lappa L.) radix 17.61%, Lactobacillus rhamnosus (DSM 25568) 8.33%, Bifidobacterium animalis lactis (DSM 25566) 8.33%; gelatin, dextrose, refined olive oil; Antioxidant: sodium ascorbate; zinc (lactate); oenothera [(Oenothera biennis L.) oleum - tit. at 9% GLA - starch] 2.17%; anti-caking agent: silicon dioxide; vitamin A (retinyl acetate), ß-carotene [from (Dunaliella salina E.C. Teodoresco) thallus] 0.43%, vitamin D (cholecalciferol), vitamin B6 (pyridoxine hydrochloride).
QUANTITY PROVIDED PER DAILY DOSE
2 capsules of FLORASE DERMA provide: 350 milligrams of passion flower; 154 milligrams of dry burdock extract (equivalent to 616 milligrams of burdock powder); 2 billion Lactobacillus rhamnosus; 2 billion Bifidobacterium animalis; 2.8 milligrams of carotenes; 5 milligrams of zinc (50% NRV **); 6.8 milligrams of evening primrose seed oil; 400 micrograms of vitamin A (50% NRV **); 5 micrograms of vitamin D (100% NRV **); 1.4 milligrams of vitamin B6 (100% NRV **)
PRODUCT WITHOUT:
Gluten free
Without lactose or milk proteins
Suitable for vegans