FAT HAIR AND GREASY DANDRUFF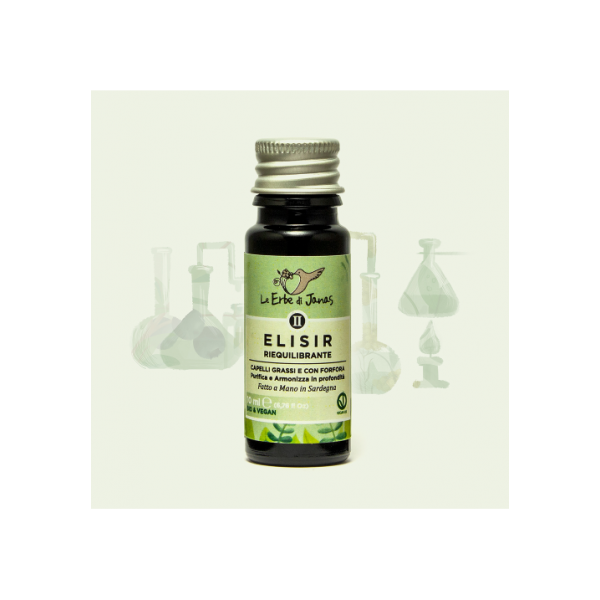 Fat Hair and Greasy dandruff
INGREDIENTS
Extracts of: Cisto, Neem, Tulsi, Burdock
Cistus, an ancient scent that smells of Earth and Fire, is astringent and antiseptic, has the power to bring balance to the skin by regulating the production of sebum. Neem and Tulsi, sacred plants of India, help against the irritations of the scalp, dandruff and seborrhea. Burdock is a powerful sebum regulator that provides benefit and balance to the sebaceous glands.
Inci: Cistus monnpeliensis extract (Cistus) *, Azadirachta indica extract (Neem) *, Ocinum sanctum extract (Tulsi) *, Arctium lappa extract (Burdock) *, Alcohol *
* Organic ingredients
Elixirs are used to bring out something creative from themselves and create a product tailored to us.
They are a piece of the puzzle of all our products and with everyone they can be used.
You can use pure drops, single or mixed with others;
to enhance the Floral Waters (Idrolates);
to enhance Vegetable Oils and Beans;
to enhance their domestic spouses;
to enhance Face Masks or Hair Packs
One vial can boost up to 200 ml of product. Concentration is at your discretion and depends on the treatment you want to perform.
For a shock treatment it is advisable to increase max 50 ml of product.
Examples:
A treatment to stimulate hair growth:
Rosemary Water 50 ml + Reinforcing Elixir, to be dispensed on clean scalp and rub, without rinsing. (Elixir can also be used pure, a few drops to rub until absorbed).
A treatment to strengthen the hairbrushes and balance the production of sebum:
Rosemary Water 50 ml or Helichrysum Water 50 ml + half vial of Reinforcing Elixir and half vial of Balancing Elixir for oily hair and with dandruff (used as above).
Antioxidant Beauty Mask:
A teaspoon of Clay to choose + Mezzo Cucchiano of Hibiscus + half a teaspoon of powder of rose petals + 5/10 drops of Elixir Moisturizing and Antioxidant or Elixir Acid of the Fruit. (to mix the ingredients you can use simple water or for an enhanced action Rose water or Helichrysum water)
Moisturizing and Nourishing Face Serum:
30 ml of Mosquet